25 декабря 2019 года Leyard Group и Epistar Group (Yenrich Corp) и руководство района Лянси города Уси подписали совместное трехстороннее соглашение о сотрудничестве. Huang Qin (the deputy Party Secretary and mayor of Wuxi), Li Jun (the chairman of Leyard Group) and Li Bingjie (the chairman of Group) attended the signing ceremony.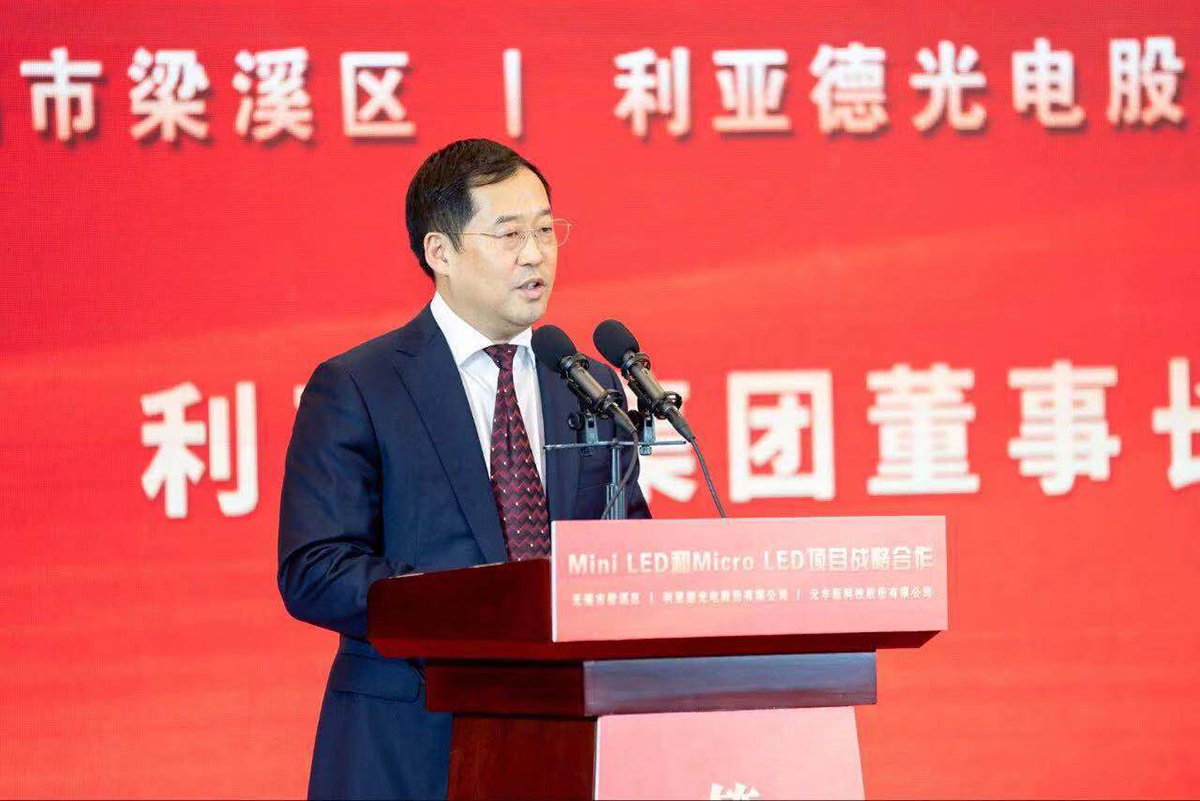 Leyard Group will establish a joint venture with Epistar Group and officially register it in Liangxi district, Wuxi. In the future, the two sides will build the
world's first large-scale production base of Micro LED display products of minimum size by using massive transfer technology in Wuxi, which will greatly
promote the layout and development of Micro LED market.

As a leading enterprise in LED display industry, Leyard Group has occupied the first place in the global LED display market for three consecutive years.
Epistar Group (Yenrich Corp) has the world's first display module with "Smallest Pixel pitch" and "Smallest single RGB LED package size" module. This time,
the two sides have jointly established a joint venture. In the early stage, they will invest RMB 1 billion (about 143 Million US Dollars) to build a Mini LED and
micro LED display project base, which will jointly promote the development of Mini LED and Micro LED display technology in the field of R&D, production
and application, and further meet the high-speed growth demand of global LED market.

The project includes the entire "industrial chain" of Mini LED and Micro LED design and development, production and sales in mainland China. The base is
scheduled to be constructed at the end of December 2019 and officially put into production in 2020 (reaching target output in 2023). The future sales
volume is expected to reach RMB 5 billion (about 714 Milllion US Dollars).

This time, Leyard actively promotes the industrialization of the project and lands it in Wuxi, which is of great and far-reaching significance. It is an inevitable
requirement for the state to vigorously advocate and speed up the cultivation of new science and technology industries and the construction of
sophisticated urban economic structure. Meanwhile, it is also the inevitable result of Wuxi Municipal Government to strengthen investment attraction and
deepen foreign cooperation.

Wuxi is the pilot zone to integrate into the Yangtze river delta, with unique geographical advantages and policy guarantee. Leyard Group, Wuxi Municipal
Government and Epistar Group will play their respective technological, resource and platform advantages, so as to jointly promote the further development
of Mini LED and Micro LED display technology in R&D, production and application field, continue to break down technical barriers, thus promoting the
in-depth development of intelligent display industry.